Signal Fire
By Bow Wow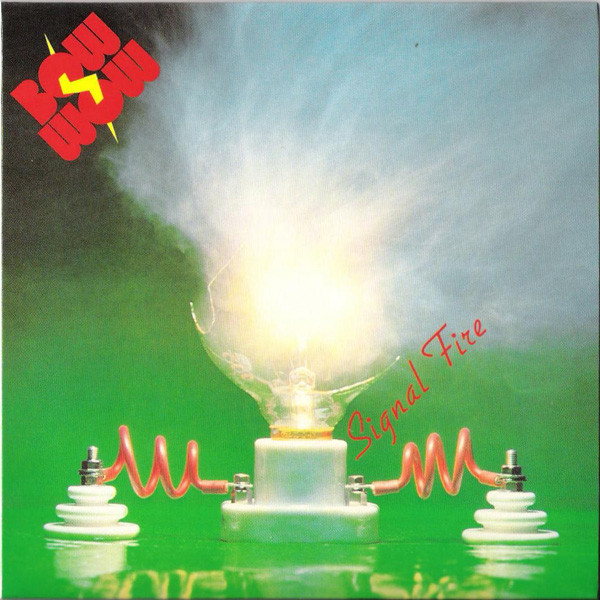 Released in 1977. Hard Rock, Proto-Metal. Take a listen.
- written on December 09, 2021
So a while back, my boy Monstro did a review of a Japanese artist called Cindy. It's a pretty good review of a late underrated singer, who's work needs to be exposed to many a people's earholes. However, it also reminded me of another great Japanese export: Heavy Metal and Hard Rock. As I already have covered metal legends Anthem, I figured it was time to take a look on one of the pioneers of the J-Rock scene, Bow Wow (not to be confused with either a rapper or a new wave act).
Led by singer and guitarist Kyoji Yamamoto, the band was already on full adrenaline, when their debut LP dropped in '76 to much fanfare. So much so, that the band even got the honor to open for international acts like Aerosmith and Kiss. Naturally, a sophomore record was due and boy did they deliver. Signal Fire is one of the most underrated J-metal albums ever. While the debut was also killer (and very much recommended), the more focused progression and heavyness on Signal Fire takes it up a notch or two.
Beginning quietly with a instrumental prelude before kicking it off with an ass-hitting opener Get On Our Train, you'll know you are in for a real treat. Catchy riffs in spades with commercial-friendly melodies and beautiful guitar solos by Yamamoto, topped with even some Thin Lizzy-esque dual guitar harmonies. It's got everything I asked for and then some. And it only gets better with the 6-minute epic that is track 4: Silver Lightning. Building up with the heavy slow riff and singalong chorus to the back-and-forth guitar solo, I can without a doubt say that it's the highlight to kill all highlights. Yamamoto's style has been signifantly fine-tuned and matured to be his own.
The same can be said for the vocals. On Bow Wow's debut, vocal duties were shared by Kyoji Yamamoto and fellow singer/guitarist Mitsuhiro Saito, which resulted in some songs having a bit more.....(how shall I put it?)......Teen Pop vibe to 'em? Or well, something to that effect, as they sounded like freaking teenagers. On this one, Yamamoto takes the mic for himself and he's sounding a bit more mature here, which suits the songs perfectly. Well, as much as he can with the lyrics here. Look, Japanese music with English lyrics tend to be either passable or total Engrish. With Signal Fire, it's very much passable. There's no real meaning to it, but it's rock 'n' roll, so it works.
Lastly, I wanna talk about the haunting closer, Still, for a bit. What a total mood shift from the more uptempo title track to this depressing creature. It's the only ballad on this album, and a heavy one at that. Even the Engrish doesn't tame this track, and don't get me started on the chorus:
She just couldn't trust anyone, I can still hear her voice, She just couldn't be peace anywhere, I can still hear her voice...
Trust me, when I say that when this gets repeated until the fade-out, it's imposibble to not feel the sheer emotions of sadness.
If you want to delve into more rock and metal music from the land of the rising sun, this is an exellent starting point for your pilgrimage to glorious Nippon. Most Recommended
Tunes for the playlist: Get On Our Train, Silver Lightning, Still, Electric Power Up, Signal Fire
Filler for the black hole: Rainbow Of Sabbath