Panasonic DMP-BD843 Blu-Ray Player (A Review of sorts...)
[
link
—
standalone
]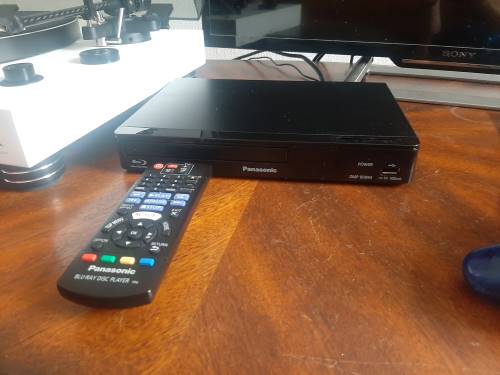 I've never thought that I would ever need to buy a standalone Blu-Ray player, but here it is and I love it. I bought this a few months ago for reasons that I'll get into later, but it has really enhanced the "movie-enjoying" experience. But before I talk about the player itself, I will like to discuss why I got it (and a bit about my standards of watching entertainment)
The Trouble For a PAL Movie Watcher (A Rant)
For most people, the easiest way to watch a movie is to turn on the telly on a Friday, go to the cinema, or find a movie on Netflix/Hulu/HBO Max/whatever streaming service that you use. That ain't me tho. I willfully go through the trouble of being painstakingly specific when wanting to watch a movie. Maybe a very obsessive-compulsive way of doing it, but I'm all for finding and getting the most optimal and best release of a movie. Still, it's not easy and depending on how you look at at, maybe even pointless. But I have my reasons:
For one, I prefer physical media. There's a myriad of reasons for this, but the jist of it is that I mostly can't find the kind movies that are on most of these streaming services. Whenever I search for a film, the results are mostly movies "related" to the one I was trying to find. Even when I find the specific movie on these services, I maybe only have a limited time period, before the movie gets taken off. The streaming quality can also be a turnoff, when the internet isn't always smooth. Also, the movies on there can either be edited/altered, are released in a different cut and/or have no special features.
So what, you boomer? Just buy cheap DVDs and torrent shit.
Well........ no. I do realize now that I'm acting like a boomer (Impressive for a 21 year old, eh?). But DVDs are mostly outlawed for me because of the awful PAL transfer for movies.
(Disclaimer: I am not an expert on this subject, so I could get some (or most) technical info wrong). If you didn't know, Europeans and Australians (and probably some other nations) uses/used the 576i resolution (the PAL format) for TV and home use as opposed to the 480i resolution (the NTSC format). Now, movies are shot in 24 frames per second. This has to be telecined for TV. I will refer to this page that explains the converting process better, but basically movies in the PAL format will have a 4% speedup, which results in it being 4% faster. The unfortunate side-effect of this is that audio is also affected by this and will usually have a 4% higher pitch, and as a music listener, this really grinds my gears. Once you hear the difference, you can't unhear it, and it usually kills the experience for me. Some DVDs, like music videos, will adjust the pitch down to the normal level, but most commercial movies have not been gone the extra mile to do so. That is why I normally prefer Blu-Rays as 1080p is now a worldwide standard and doesn't have the conversion setbacks of NTSC and PAL, but even that is infected by the most annoying problem of all time:
Region Lock
The one that scares anyone away from Blu-Rays and into the torrents. The bane of all movie buyers*. I don't really need to say much about this, except that I prefer watching video discs on the TV instead of the computer and therefor it's more pricey and difficult to bypass. It's just one of those things, when particular movies are only released or have better releases in certain regions (See also, Discotek and Shout Factory releases).
So anyways......review?
Yes. This thing is amazing. An upgrade to my small entertainment center, which was a surprise, when I got it. The player itself is surprisingly lightweight. Not that I wanted it to be heavy as a VHS player, but it's a small thing that caught me offguard. An example on how far tech has gone with less of the weight. For Blu-Rays, it plays them well. Same with DVDs, enhanced by the HDMI cable. Picture quality is what you expect all BD-players to do well, and this player unsurprisingly does it well. On the topic of region-free, it's so satisfying to finally watch, what you want. DVDs are relatively straight forward, while BD region codes has to be selected by the remote, before you put the disc in. Not a big hassle, but it also means that because of the custom firmware, this thing can't go onto the internet. Or maybe it can. I don't know. I don't want to run the risk and maybe wipe the region-free aspect away, because of a damn unexpected firmware update. Not that it needs to, considering the multimedia abilities that this thing has. Other than becoming my main CD player, it's codec support for USB media is monumental and dabs on the pitiful boomer PS3 and PS4 consoles. I was able to run every test files that I could throw at it. Video files with subtitles do work, however if there's a scene with a top and bottom subtitle not in sync with each other, only the bottom will display. It's annoying, but doesn't effect that much in my opinion.
The only real form of critique that I have is with the remote. It's ok, but I wish that it didn't have an internet and Netflix button instead of a normal subtitle button. I can sort of understand the inclusion of a so-far untouched Netflix button, but why internet? Was a physical shortcut necessary? Why not have a subtitle button instead of going through the options menu to turn on closed captions everytime when needed? Oh, and the top TV buttons doesn't do anything. Lame.
So in summary, the player is a gud boi, PAL DVDs are trash, region lock is a bitch, and so is life.
*And any ridiculous failbook pages and other, who thinks that people don't have a right to access any kind of media and should be behind the walls of copyright and region lock, should shut the HELL up. I might not do it regularly, but piracy can generate interest in media that you've probably never heard of and also find a new audience. If you like what you like, then by all means support it, but I'm not gonna blame you, if the avaliablility is limited and the price to pay is more than necessary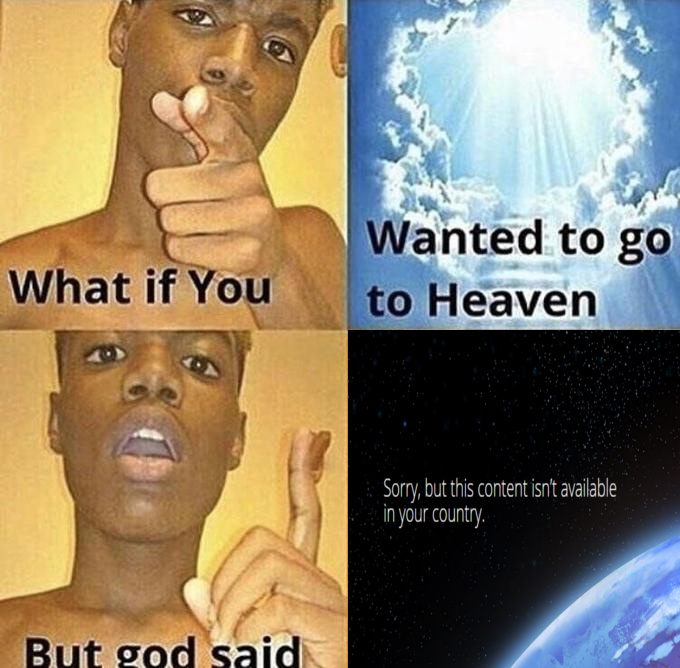 Thu, 29 Dec 2022 17:01:00 +0100